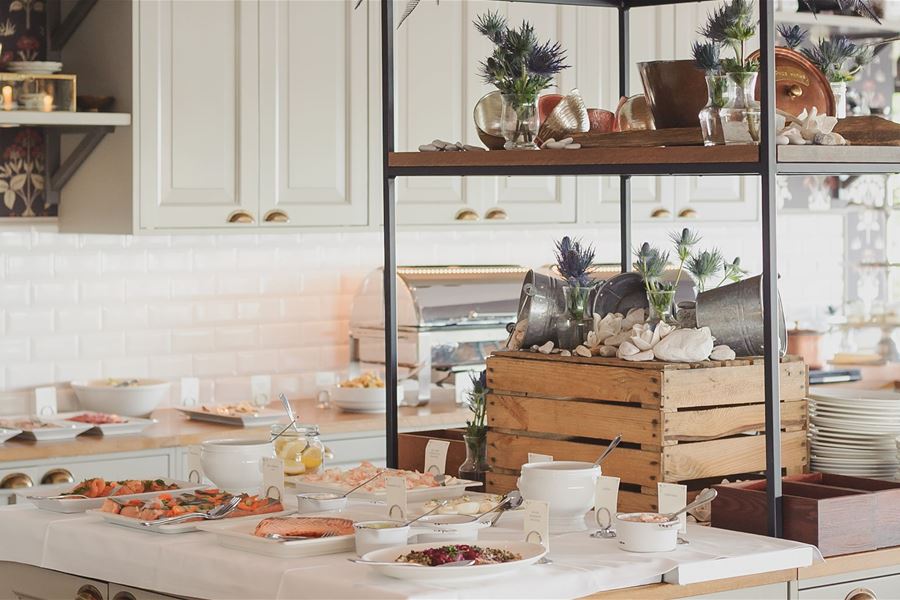 The restaurant at Waxholm Hotel
The chefs handcraft our cuisine with great care and attention to detail. Delicacies fresh from the archipelago's waters are our speciality. Meat lovers and vegetarians won't be disappointed by the menu, though. The hotel has dishes to suit every palate.
Information
The jewel in our crown is our newly-renovated Matsalen dining room, with its unique location alongside the Vaxholmskajen quay and its fantastic views overlooking a living masterpiece – the captivatingly beautiful sea. Each new day gives us reason to be thankful for the abundance of breathtakingly beautiful natural scenery that surrounds Waxholms Hotell. Why not come and experience it for yourself? Delicious food tastes even better when enjoyed in a magnificent natural setting.

The signature dish is undoubtedly Waxholm herring, served with mashed potatoes and sugared lingonberries. Simple, yet enormously satisfying. Of course, we aim to cater to every taste, and so haven't forgotten meat lovers in composing our menu. The chef prepares hearty and delicious traditional Swedish fare, classic meat dishes and tantalising courses that showcase the best of the current season's delights.